A Residential Estate in Estepona
Situated on the sea front, with a stretch of beach of over half a kilometre, Alcazaba Beach is an exclusive residential estate with a complete sports (tennis, paddle tennis, swimming pools ...) and social (restaurant, library ...) equipments and with a careful environment of gardens and green areas.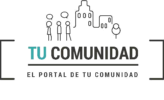 Tucomunidad.com
On this site you can access your personal data and accounts (payment status, receipts, etc.) in relationship with the Alcazaba Beach community of owners.
There is also an application for your mobile telephone available, read more